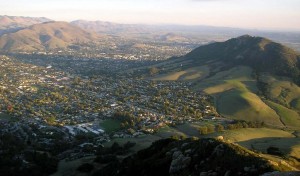 The city of San Luis Obispo lies on the Central Coast of California, roughly halfway between San Francisco and Los Angeles (each a little more than 200 miles away). Founded by Father Junipero Serra in 1772 and incorporated in 1856, the city was named after Saint Louis, a 13th Century Bishop of Toulouse, France (the city's name is the Spanish translation of "St. Louis, the Bishop"). Situated at the junction of U.S. Highway 101 and California State Highway 1 (the scenic Pacific Coast Highway), the city is the county seat of San Luis Obispo County. Very much a college town, San Luis Obispo is home to California Polytechnic (Cal Poly) State University and also to Cuesta Community College. The City Council has had a college professor elected to it four times, and approximately one third of the city's population is of college age or attending college. Noted satirist and recording artist Weird Al Yankovic made his start by working as a DJ at the Cal Poly campus radio station while studying architecture at the university. His debut song, "My Bologna," was recorded in a bathroom stall on campus. One of San Luis Obispo's main draws is Farmers' Market, a large outdoor festival held downtown every Thursday evening throughout the year. Created in 1983 as an outlet for the city's large collegiate population, the event features live entertainment and produce sold by local farmers and vendors. Other city events include Cinco de Mayo celebrations and a standard Christmas Parade. The city has also been a stop on the route of the Olympic Torch and the Tour of California bicycle race. Focal point of the city's downtown area is the Mission San Luis Obispo de Tolosa, originally built in the late 18th century and later carefully restored. Those attracted to the offbeat may appreciate San Luis Obispo's Bubble Gum Alley, on whose walls people have been sticking their chewed gum since 1960. Several nearby attractions are within easy driving distance of San Luis Obispo. Just south of the city is Edna Valley, an area which has developed into a well-known wine region. Some of its wineries have won awards and acclaim for their vintages. Even more wineries can be found in the Paso Robles area, located about 30 miles north of San Luis Obispo. Located 43 miles to the north of San Luis Obispo is the very popular Hearst Castle, the spacious estate of famed publisher William Randolph Hearst. The city of Santa Maria, located 33 miles to the south, offers its own variety of local attractions, including the Museum of Flight, the Discovery Museum, and the Railway Historical Museum. Sports enthusiasts can take a two-hour drive eastward along highway 58 to the city of Bakersfield where the Bakersfield Condors (East Coast Hockey League) play their games. Another pro team in this city is the Bakersfield Blaze (a Minor League baseball team and the Single-A affiliate of the Texas Rangers).
SAN LUIS OBISPO COUNTY REGIONAL AIRPORT
For the finest in private jet charters in San Luis Obispo, California,
Please call 800-444-9220
Classic Jet Charters
San Luis Obispo Air Charter, Private Jet Charter San Luis Obispo, San Luis Obispo Jet Charter, Air Charter San Luis Obispo, California Private Jet, Private Jet to San Luis Obispo, Air Hire San Luis Obispo, California Air Charter
Aircraft Charter, Corporate Jet Charter, Private Jet Charter Prices, Air Charter Travel, Private Jet Flights, Gulfstream Charter, Air Charter Aircraft, Jet Charter Services, Hire A Private Jet, Jet Charter Cost, Luxury Jet Charter, Private Jet Charter, Charter Planes, Business Jet Charter, Air Charter Flights, Air Charter Services, Private Air Charter, Private Jet Charter Service, Private Jet Hire, Gulfstream Jet Charter, Private Plane Charter, Jet Charter Quote, Executive Jet Charter, Plane Charter Rate
Do you have something to say?