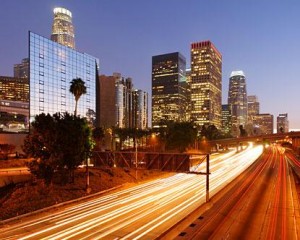 Los Angeles, located on the Pacific coast of southern California, is the largest city in the state. Originally Spanish territory, the area became US property in 1848, with Los Angeles incorporated as a city in 1850. An attractive climate, the discovery of oil and the growth of the citrus fruit industry brought people to the city in droves during its first 100 years. Lockheed and Douglas aerospace plants in the area during World War I and the development of the motion picture industry in the 1920s both helped create a population explosion. Today, metro Los Angeles is the nation's largest manufacturing area, home to one of its busiest ports, the distribution hub of the west coast and a gateway to Asia. LA is the entertainment capital of the world, with most of the country's major motion picture, television and recorded music operations based there. The city's humongous metropolitan area is the second-largest in the country, with over 14,000,000 people spread over a land area the size of Maine. Thirty of LA's suburbs have populations of 80,000 or more. Los Angeles is very diverse, with people from over 140 countries and the largest Latin-American and Asian-American populations of any US city. The entertainment industry is a big part of the city's culture, with Hollywood Boulevard, the Hollywood Walk of Fame, Grauman's Chinese Theater and Universal Studios among its top attractions. Though not as known for its art scene as San Francisco to the north, LA has its share of museums, such as the Los Angeles County Museum of Art and the Museum of Contemporary Art, and a growing number of galleries. Some of the finest art in the city can be seen right outside on its many murals. There may be more wall art in LA than in any city in the world. Los Angeles is well represented in major league sports, with multiple teams in baseball (Los Angeles Dodgers and Anaheim Angels), basketball (NBA's Los Angeles Lakers and Clippers, WNBA's Los Angeles Spark) and hockey (NHL's Los Angeles Kings and Anaheim Mighty Ducks). There is currently no NFL entry in LA, with the Rams and Raiders both gone. Los Angeles has hosted the Olympic Games and for ten years the city has hosted the X Games. Outdoor recreation in the Los Angeles area is practically unmatchable. Beaches with familiar names right out of Beach Boys songs offer water sports of all kinds. Some of the country's best surfing is within reach, from Malibu and Santa Monica to Huntington Beach, with its famous pier, surf shops and surfing walk of fame. Venice Beach is a mecca for bodybuilders, who oil up and pose for the crowds. Skateboarding, which originated in Los Angeles less than 50 years ago, has never been more popular. In the winter, skiing is available within a manageable distance at Sierra Nevada mountain slopes. LA's world-class nightlife offers a myriad of options, from the grungy Hollywood hangouts to the trendiest restaurants and bars Beverly Hills. With so many cultures represented in the city and so many celebrities (and celebrity wanna-bes) partying, the restaurants, bars and clubs do their share to make sure there's a fun night available for every taste.  Fly in and out of the Los Angeles International Airport or any other surrounding airports in the area.
For the finest in private jet charters in Los Angeles, California,
Please call 800-444-9220
Classic Jet Charters
Los Angeles Air Charter, Private Jet Charter Los Angeles, Los Angeles Jet Charter, Air Charter Los Angeles, California Private Jet, Private Jet to Los Angeles, Air Hire Los Angeles, California Air Charter
Air Charter Services, Jet Charter Services, Private Air Charter, Charter Planes, Air Charter Travel, Private Plane Charter, Gulfstream Jet Charter, Private Jet Flights, Hire A Private Jet, Air Charter Aircraft, Aircraft Charter, Corporate Jet Charter, Executive Jet Charter, Private Jet Hire, Jet Charter Quote, Private Jet Charter, Luxury Jet Charter, Private Jet Charter Service, Private Jet Charter Prices, Air Charter Flights, Plane Charter Rate, Business Jet Charter, Jet Charter Cost, Gulfstream Charter
Do you have something to say?