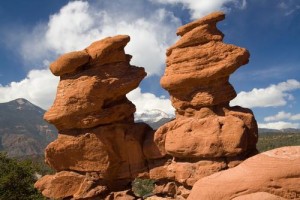 Colorado Springs, located in the Rocky Mountains just east of Pikes Peak and 66 miles south of Denver, is the second-largest city in Colorado. Begun as a resort community in 1871, Colorado Springs saw its population rise with the discovery of gold in nearby Cripple Creek in the 1890s. A view of the surrounding area from atop Pikes Peak in 1893 inspired Katharine Lee Bates to compose the lyrics of America the Beautiful. During and after World War II, the US Army built Fort Carson and the US Air Force set up the Air Force Academy and several bases in Colorado Springs. The city remains a popular tourist destination and a military center, but the arrival of Hewlett-Packard in 1962 established Colorado Springs as a high-tech mecca. The city's beauty and strong economy attract many high-tech firms and young professionals to the area. With a population of 370,000, Colorado Springs is one of the country's fastest-growing cities. Outdoor sports so connected with the area dominate the themes of the city's top museums. Colorado Springs is home to the World Figure Skating Museum and Hall of Fame, as well as the Pro Rodeo Hall of Fame and Museum of the American Cowboy. The arts are also well represented. The Fine Arts Center has a first-class art museum, a performing arts theatre, and school of art. Theaterworks, at the University of Colorado, offers a Shakespeare Festival each summer. The city also hosts a Jazz Festival in July and a Wine and Music Festival in September. In minor league baseball, the Colorado Springs SkySox are the AAA-affiliate of the Colorado Rockies. Pikes Peak International Raceway, just 15 miles south, hosts NASCAR events. For major league sports, Denver is an hour drive north, with baseball's Colorado Rockies, the NFL's Denver Broncos, the NBA's Denver Nuggets and the NHL's Colorado Avalanche. Spectator sports are an option, but for the outdoor enthusiast, the real draw is the magnificent outdoor paradise of the Rocky Mountains. Rafting, horseback riding and ballooning are all spectacular. Dozens of hiking trails are available within the city. The New Santa Fe Regional Trail, Pikes Peak Greenway and the Fountain Creek Regional Trail form a 35-mile pathway popular among hikers, runners and bicyclists. But nothing beats the area's skiing. Within a 2-hour drive is Vail, the most visited ski resort in the United States. For year-round skiing, a permanent snowfield at 11,000-foot-high St Mary's Glacier is just a few hours away. Also within that distance is Aspen, the popular and celebrated ski getaway for the wealthy, filled with 14,000-foot peaks and a heavy dose of culture. A large student population and a growing economy contribute to the city's hopping nightlife, with many bars and dance clubs clustered along North Academy Boulevard. With so much to see and do, Colorado Springs is one of America's up-and-coming places for young people.
COLORADO SPRINGS MUNICIPAL AIRPORT
For the finest in private jet charters in Colorado Springs, Colorado,
Please call 800-444-9220
Classic Jet Charters
Colorado Springs Air Charter, Private Jet Charter Colorado Springs, Colorado Springs Jet Charter, Air Charter Colorado Springs, Colorado Private Jet, Private Jet to Colorado Springs, Air Hire Colorado Springs, Colorado Air Charter
Executive Jet Charter, Hire A Private Jet, Jet Charter Quote, Air Charter Travel, Gulfstream Jet Charter, Air Charter Aircraft, Business Jet Charter, Jet Charter Cost, Plane Charter Rate, Gulfstream Charter, Private Plane Charter, Corporate Jet Charter, Private Jet Flights, Private Jet Charter Service, Private Jet Charter, Private Jet Charter Prices, Aircraft Charter, Private Jet Hire, Private Air Charter, Jet Charter Services, Air Charter Flights, Charter Planes, Luxury Jet Charter, Air Charter Services
Do you have something to say?